Popular ski tours in the Abtenau holiday region in SalzburgerLand
It's not by chance that the Postalm is such a popular area for ski touring and  backcountry skiing in the Alps: the fog-free altitude, long sunny days on the sprawling high plateau in the Salzkammergut, and incredible 360° views amaze beginners and advanced backcountry skiers alike. Hire well-kept equipment and skis at the ski hire shop in Abtenau and get ready for an exciting ski tour at the Postalm!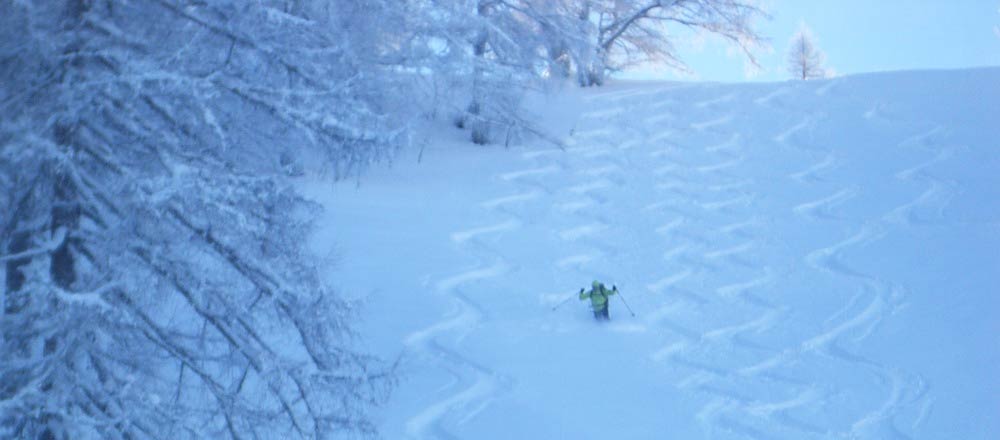 On the scenic road to the starting point for skiers at the Postalm
The journey to the starting point of your ski touring at the Postalm is an experience: Generous views of the winter white mountain peaks compensate the toll of the Postalm scenic road.
The enjoyment of backcountry skiing to the mountains "Labenberg" and "Pitschenberg"
Within only 2.5 hours to experience everything that makes a fantastically beautiful ski tour in Salzburg: a easy to be handled ascent, sunny slopes, a great mountain panorama and ultimately the comfortable rest stop at the Postalm. A great ski tour at the Postalm for winter sports fans in normal condition, start and end point in the parking lot Lienbachhof.
Backcountryskiing from the Postalm to the "Egelseehörndl"
Sporty ambitious backcountry skiers will enjoy the route to the Egelseehörndl! In a total of 6 hours of walking and 1,230 hm the exceptional round ski tour in the holiday region Abtenau offers great views and a spectacular descent into the "Zinkenbachgraben".
For more information about the current Salzburg avalanche warning service, click here.
Rental of backcountry ski in Abtenau
You would like to make a guided Skitour in your holiday destination? No problem in Abtenau! The tourist information in Abtenau will help you planing and booking a guided backcountry ski tour.